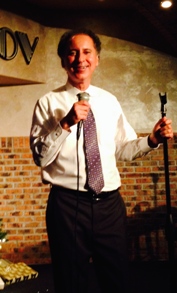 Looking for some enjoyable healthcare humor and entertainment at your next dental or medical event? Hoping to get your audience laughing out loud rather than watching the clock? If so, Dr. Dan is your man! The healthcare comedian can add loads of laughs and good times to your next healthcare event. Dr. Dan has been sharing his humor with the healthcare industry for over 20 years, and during that time, has increased fun, improved interest and enhanced the entertainment value of the following types of events:
Healthcare Staff Appreciation Dinners
Healthcare Society Meetings
Healthcare Conventions
Healthcare Study Clubs
Healthcare Corporate Meetings
Healthcare Trade Shows
Healthcare Industry Banquets
Healthcare Holiday Parties
Healthcare Continuing Education Programs
Healthcare Office Referral Thank-You Events
Healthcare Team-Building Activities
The Dr. Dan Show is multi-media entertainment for the healthcare industry. This hysterical healthcare comedy program includes sing-along parody songs, music, video and tons of jokes about what REALLY happens in healthcare today.From observations about the interactions between office staff to the funny side of insurance headaches and healthcare reform, Dr. Dan's G-rated show brings out the lighter side of a sometimes stressful work environment. Dr. Dan's dental comedy is one way to surely improve the smiles of those in the field of dentistry. His healthcare comedy is also perfect for hospital employees, physicians, nurses, pharmaceutical reps, medical assistants, case managers, healthcare administrators and more. No matter what the audience, Dr. Dan has the perfect prescription for the "boring meeting blues". He'll lighten the mood, add to the fun and keep people talking about the event long after they leave. To book healthcare comedian Dr. Dan for your group, call 561-843-1617.